BEST QUALITY GUARANTEE
OUR PROMISE
Fast Shipping
Many of our customers live in remote locations and have to drive hours to find good quality log home products. This is where we make it easy. Order online and get the products delivered to your doorstep.
Quality Products
We are constantly researching and testing products to find the absolute best for our customers. We only offer the best the industry has to offer. Our products are of the highest quality, you won't find them at your local big box stores.
Over 6,000+ 5 Star Reviews
Read reviews from real customers. We have thousands of happy customers that leave reviews about their experience with our products. We have the most reviews in the industry.
Log Home Maintenance Products
With our products you can start or finish any log home building, preservation, maintenance, restoration, or sealing project yourself.
Log homes, Small Log Cabin Kits And Floorplans
Western red cedar cabins
Knotty Pine, Spruce and Western and Eastern Red Cedar log siding
Tounge and groove cabins
Decking
Almost any type of specialty lumber you can think of, just call and ask.
We Also Carry A Wide Assortment Of Other Products To Meet Your Log Home Care Needs. These Include: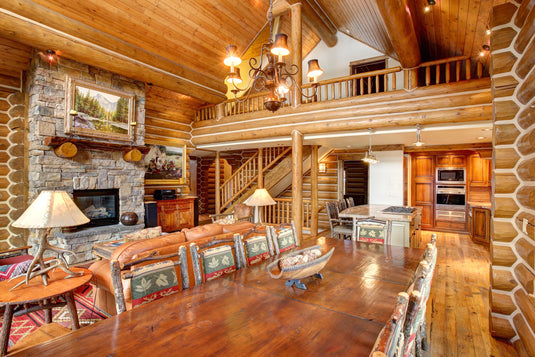 Preserve Your Home With Log Cabin Supplies for Protection
When it comes to log home care and maintenance, finding the proper log cabin supplies is key. High-quality log home stains and log home preservatives are essential to protect from the elements, insects, decay and more. Western Log Home Supply carries a wide range of products to ensure longevity, including log home supplies designed for the unique needs of wood. Invest in the right log home maintenance supplies to keep your rustic home in peak condition.
Shop Log Care Products
Stay Insulated With Log Home Supplies for Repairs
Log cabin wood repair doesn't have to be difficult. With the right log cabin supplies, home repairs are a breeze.Log cabin building supplies like chinking and sealant are your first line of defense for insulation, but wood repair epoxy provides permanent fixes when issues arise. Shop log home supplies to ensure your cabin stays in top shape for years.
Shop Chinking and Sealants